Blueberries are an evergreen or deciduous plant (depending on variety) with oval-shaped leaves and bell-shaped flowers. The round, edible berries turn a deep, blue-purple when ripe. Blueberries are found in the wild and in cultivated and commercial gardens.
Varieties
Duke – Early season with a late bloom. Frost tolerance and cold hardy to -25 degrees C.
Spartan – Early season with large fruit. Late bloom, and for best yields requires cross-pollination. Cold hardy to -25 degrees C.
Bluecrop – Mid season with very good disease resistance. Cold hardy to – 25 degrees C.
Rubel – Mid season with small fruit. Cold hardy to -35 degrees C.
Brigatta – Late season with large fruit. Vigorous for a late season variety. Cold hardy to -25 degreesC.
Elliott – Late season with large fruit. Very long shelf life, and flavor can be tart because the color will turn before it is fully ripened. Cold hardy to -35 degrees C.
Cultivation
Blueberry bushes are typically very easy to grow with little maintenance. Check the variety you are wishing to plant to be sure it is suitable for your area. All blueberry bushes require a good amount of sunlight, and slightly acidic soil between a pH of 4.09 to 5.0. Avoid slow draining sites where water tends to sit.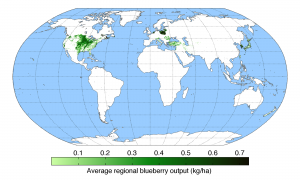 The main growing areas of the U.S. are Maine, New Jersey, Oregon, Michigan, North Carolina, Georgia, and Washington. British Columbia is the world's largest blueberry producer by region, while Atlantic Canada produces about half of all North American highbush blueberries. Elsewhere, blueberries are cultivated commercially and locally in Europe, Turkey, South America, Australia, New Zealand, and South Africa.
When planting in the garden, space them out from 2 to 6 feet apart to allow for growth using an ammonium sulfate as fertilizer. Do not over-fertilize as blueberries are sensitive; once a year in late spring once they are established. The tighter the planting, the more solid the rows will be if hedging is desired. For pruning, remove low growth and twiggy wood.
Resources:
Weber, Courtney. "Blueberry Variety Review." Berry Resources (2012): n. pag. Www.fruit.cornell.edu/berry. Cornell University, 6 Mar. 2012. Web. 3 Apr. 2014.
"Blueberry." Wikipedia. Wikimedia Foundation, 04 Feb. 2014. Web. 02 Apr. 2014.
"Blueberries Gardening." Blueberries. U.S. Highbush Blueberry Council, n.d. Web. 03 Apr. 2014.
Image courtesy Wikimedia Commons through a creative commons license.